Welcome to our

Halloween Party!
Here At Our Halloween Party You Will Find All Kinds Of

Ideas For Your Next Party Updated October 5, 2000

Can you believe it is almost time to Start thinking about a Halloween party? It's a good thing we have a web Site full of great ideas to get you Started!
CLICK HERE TO SEE
PARTY GAMES
  SSPAGHETTI GAME

  MUMMY RACE

  HALLOWEEN WORD GAME

  HALLOWEEN RING TOSS

  SCARECROW CONTEST

  SNIFF TEST

  HALLOWEEN CHARADES

  WAITER, THERE'S A HEAD IN MY SOUP (RELAY RACE)

BOO-GO

FF MEET MR. KREEPS updated 7/14/2000

SUCK A SEED

DOUGHNUT ON A STRING

BUG FISHING

GOOD OLD CHARADES

NEW MUSICAL TOMBSTONES 9/9/2000

NEW ZOMBIE TAG 9/9/2000

NEW SPOOKY SPIDERWEBS GAME 9/30/2000

NEW PUMPKIN BOWLING 10/05/2000

click here for details on the games above

 

Party foods

 DING DONG SPIDERS

 RICE CRISPY PUMPKINS

 FINGER COOKIES

 BATWITCHES

 GHOSTS IN THE GRAVEYARD

 WITCH'S BREW

 BROOMSTICK BROWNIES

 HAUNTED PIZZA

 MUMMY DOGS

 BLOODY EYEBALL PUNCH

Blue Slime

Magically Delicious Hats

PUTRID PUNCH FAMILY FUN

SNAKE VENOM PUNCH

GHOSTLY PEANUT BLOODER SANDWICHES

Bugers on a stick

NEW DRACULA'S EYES Updated July 14, 2000.

NEW Skeleton Crude-ite 9/9/2000 Family Fun

NEW Dip for Brains 9/9/2000 Family Fun

NEW CHOCOLATE SLIME 9/9/2000 Family Fun

NEW Spider Pretzels 9/9/2000 Family Fun

NEW magic potion with night crawler ring 9/30/2000

NEW candy corn cookies 9/30/2000

NEW mummy cookies 9/30/2000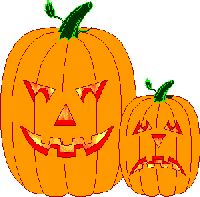 cLICK HERE FOR RECIPES FOR THE ABOVE FOODS
PARTY FAVORS
 OREO ANTS
 MASK MAGIC
 HALLOWEEN BEAD CRITTERS
 BUCKETS OF FUN
 VAMPIRE PARACHUTES
 GHOST SUCKERS
 PUMPKIN BASKETS
 ORIENTAL TRADING COMPANY
MINI PUMPKIN PEOPLE
BUCKET OF SLIME
Room MUMMY party favor
SPIDER suckers
PUMPKIN JARS
POPCORN HANDS
HALLOWEEN DRINKS
SPIDER PLATES
NEW COFFIN '0 CANDY
NEW Stitch-A-Pumpkin 9/9/2000
NEW Spider Bag-O'-Treats 9/9/2000
NEW Witchy Treat 9/9/2000
NEW Pumpkin Poop 10/5/2000
CLICK HERE AND SCROLL DOWN FOR DETAILS ON ABOVE PARTY FAVORS

CLICK HERE FOR DECORATING IDEAS
---
 

 

 EPLEASE EMAIL ME WITH YOUR HALLOWEEN PARTY IDEAS. WE WILL BE POSTING YOUR IDEAS TO OUR WEB SITE. THANK YOU!
Home Page