Thanksgiving Day &
Autumn Harvest
Welcome to our new party. I have combined these two parties because as I went along what I would find for one would also work for the other. This site is small but I am still looking as we speak for new ideas. So please send me any thing you can.


Well as you can see I don't have a lot for this holiday. If you have any ideas at all please e-mail them to me. Check the bottom of page for e-mailing address.
 

GAMES for the SESEAON
  Turkey Tag
  Pilgrim, Pilgrim Where's Your Hat?
  Turkey Hunt!
  Bird, Beast, or Fish
  Corn Hunt
  Corn Pitching
  Cranberry Stringing
  Thanksgiving Dinner
  Cornucopia (active)
  Pumpkin Roll (active)
  BROOM DANCE (active)
  Holiday Draw
NEW
What Are You Thankful For
NEW
Turkey Hide and Seek
NEW
Thanksgiving Trivia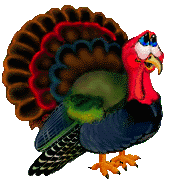 For details on the above games, click on the turkey.

 

FOOD for the SESEAON

  Tepee Treats

  Turkey cookies

  SUGAR-CONE CORNUCOPIA

  CANDY COBS

  TURKEY BREAD & DIP
NEW

Cornucopia Cupcakes
NEW

Mini "Turkeys"
NEW

Cookie Turkeys
NEW

Thanksgiving Snack Mix
NEW

Apple Turkeys
NEW

Cheesy Veggie Appetizers

For the scoop on these treats click on the turkey.

 

PARTY FAVORS to be THANKFUL for.

  TURKEY HAT

  TURKEY NUT HOLDER

  NAPKIN-TAILED TURKEY FAVOR

  "CONE"-HEADED TURKEY FAVORS

  Lollipop-tailed turkey pot
NEW

TURKEY PLACE CARDS
NEW

Turkey Place mats
NEW

Napkin Rings
NEW

Candle Holders

Click here for details on these party favors.
Send Me E-Mail with your thanks giving ideas.
Here are some links for Thankgiving.


 HOME PAGE